Overview of the best IOT platforms. Tips for selecting the right cloud solution in 2019
By Anna Davydova on October 13, 2021
The Internet of Things is one of the fastest growing industries today. We see the proof of this literally everywhere - our homes, offices, cars, and connected devices are becoming smarter, faster, and much more efficient.
The new generation of consumers is extremely demanding. That's why completely new business models, services, and other innovations crop up everywhere. IoT technology offers unprecedented opportunities for represents of both business and public sector. As a result, the use of IoT technology is growing year by year.
Edsson experts work with the IoT regularly. They know firsthand that the initial choice of proper technology leads to final success in the ongoing product development.
For this reason, our experts review the top 10 cloud-based services seeking for the most optimal functionality for IoT applications. The platforms listed below support Internet app functions, such as launch, maintenance, data storage, analysis & security mechanisms.
1. Amazon Web Services

With AWS Iot, connecting and managing devices, exchanging and collecting data is a breeze. AWS is capable of supporting any cloud projects with almost 100% probability. Cloud services provided by Amazon include a comprehensive IoT package. This is a suite of tools that supports all possible features of Internet applications.
● AWS IoT Core - the base layer on which any IoT application can be built. Using AWS IoT Core, devices can smoothly integrate with each other over a secure connection. This way, they can send billions of messages and exchange data through cloud storage on the fly. The platform supports various communication protocols, including user-generated ones. This allows for better communication between devices from different manufacturers.
● AWS IoT Device Management - the service that makes gadget management hassle-free. Due to its scalable and safe performance, you can easily add and connect devices with the ability to monitor, troubleshoot, and update their functionality.
● AWS IoT Analytics - the service that is capable of automatically analyzing large amounts of IoT information. This information may include unstructured data from different device types. Once the data are collected and processed, they are absolutely ready for the use in machine learning.
● AWS IoT Device Defender - the tool for smooth management and configuration of IoT security mechanisms. With AWS IoT Device Defender, you can customize and manage security policies, control device authentication & authorization, as well as use advanced encryption mechanisms.
These are just a few examples of IoT services offered by AWS. If you go for the Amazon environment for your IoT app, you will get a system which is hundred-percent scalable, secure, and properly functioning.
2. Google Cloud IoT


The Google Cloud Platform is another global cloud service that offers IoT support. With Google Cloud IoT package, you can develop and manage IoT networks of any complexity and size. The Google Cloud IoT suite provides you with comprehensive tools for building IoT networks:
● Cloud IoT Core is fully equipped for establishing a secure connection, as well as managing and transmitting data between various gadgets.
● Cloud Pub / Sub is a service that processes information about events, providing you with real-time stream analytics.
● Cloud Machine Learning Engine is a service that allows you to build ML models, collect and use the information you get from IoT devices.
The IoT solution developed by Google consists of many other services that may come in handy for building complex interconnected ecosystems.
3. Microsoft Azure IoT Suite
Microsoft Azure is a king of cloud services that stays next to the Google Cloud and the AWS platforms. Microsoft Azure IoT Suite offers both pre-customized solutions and the ability to configure them on the go.
As a result, you can use both a ready-made working flow or create your own based on the requirements of a specific project.
With Microsoft Azure IoT Suite, you get the most advanced security mechanisms, transparent scalability, and full integration with any existing or future systems.
The service allows you to connect hundreds of devices from different manufacturers, collect IoT information and use it for analytical and machine learning purposes.
4. SAP
The need for IoT tools and applications is growing at a rapid pace. This German developer of enterprise software solutions could not ignore it. The SAP cloud service has everything you need to develop and manage IoT applications.
SAP is a convenient environment for remote management of all connected devices that belong to one IoT system. You can either connect such devices directly or use a cloud service instead. Powerful analytical capabilities allow you to process, systematize and analyze information obtained from sensors, meters and other IoT devices.
Since SAP stays ahead of the latest technological trends, it grants an opportunity to use IoT data and build your AI and ML applications.
5. Salesforce IoT
If you are looking for a reliable and flexible IoT platform, you should definitely check out this US-based company offering enterprise solutions and cloud computing software. Salesforce narrows down its IoT development efforts to an integrated system that connects IoT devices with customers that belong to the Salesforce network. The main purpose behind it is to make IoT data available to everyone.
With Salesforce IoT, you can develop your own IoT applications adaptable to any device and interpret IoT data for any future use. The 'customer-first' approach, adopted by Salesforce, makes the platform stand out from competitors.
6. Oracle Internet of Things
It would be foolish to not include this platform in our 'best of the best' list. Oracle is a global software corporation known for its advanced database management. Its product line goes beyond cloud computing and enterprise software, offering an extensive IoT toolkit.
The Oracle Internet of Things platform connects enterprise software with the 'real world' of gadgets and their metrics. Oracle offers exceptional business-oriented opportunities through a user-friendly environment for building commercial apps. As a recognized leader in database management, Oracle can handle large amounts of data. For this reason, creating large-scale IoT ecosystems is not a problem at all.
In the age of data breaches and security loopholes found literally everywhere, the use of advanced protection mechanisms is more than a good idea. It's no news that IoT ecosystems usually integrate with various devices. Since not all of them have security features already built-in, it is essential to use centralized protection tools. Oracle takes advantage of high-quality security mechanisms. Reliable protection of IoT systems from any external threats is what makes Oracle exclusive.
7. Cisco IoT Cloud Connect
Cisco developed a convenient, mobile-friendly platform for cloud-based IoT solutions. This service offers voice and data transfer, various monetization options, and extensive configuration features for IoT applications.
If you choose Cisco for hosting your IoT app, you will get a complete suite of device management functions, advanced security mechanisms, and scalability options - all with a principal focus on high-quality mobile environment and user interaction.
Thanks to a wide range of additional services offered by Cisco, you can take advantage of many other cool functions as well. For instance, you can use IoT Services for Utility Networks to create systems designed specifically for utilities. Also, you can use the IoT Advisory. It gives you access to expert advice related to key business challenges in the IoT industry.
8. Bosch IoT Suite
Bosch is another technology giant based in Germany. Its product line varies from devices to software solutions which meet various business needs and integrate with different application types. With German reliability and innovative approach in mind, Bosch IoT Suite is considered to be one of the most reliable platforms for IoT applications.
To develop its IoT platform, Bosch uses open standards and open source code. It also takes into account requirements of projects designed specifically for connected devices. Today, Bosch IoT Suite supports the full application development cycle, from prototype issuance to application deployment and further maintenance.
One of the core benefits of Bosch IoT solutions is that they function as both cloud services and autonomous systems which operate locally. The service supports cross-platform apps, expanding the integration opportunities and thus minimizing compatibility issues.
9. IBM Watson Internet of Things
As IBM Watson puts it, with their contribution "the Internet of Things is becoming the Internet that thinks." This bold statement means that IBM is experimenting all the time. Their innovative approach to integrating IoT with AI is creating unique experiences and paves the way for new technological breakthroughs.
The IBM platform offers a wide range of features for efficient remote device management, including:
- cloud storage
- secure data transmission
- real-time information exchange
- machine learning through AI technology integration.
All-in-all, this platform connects a number of tools and services that make it easy to create highly efficient IoT software from scratch.
10. ThingWorx IoT Platform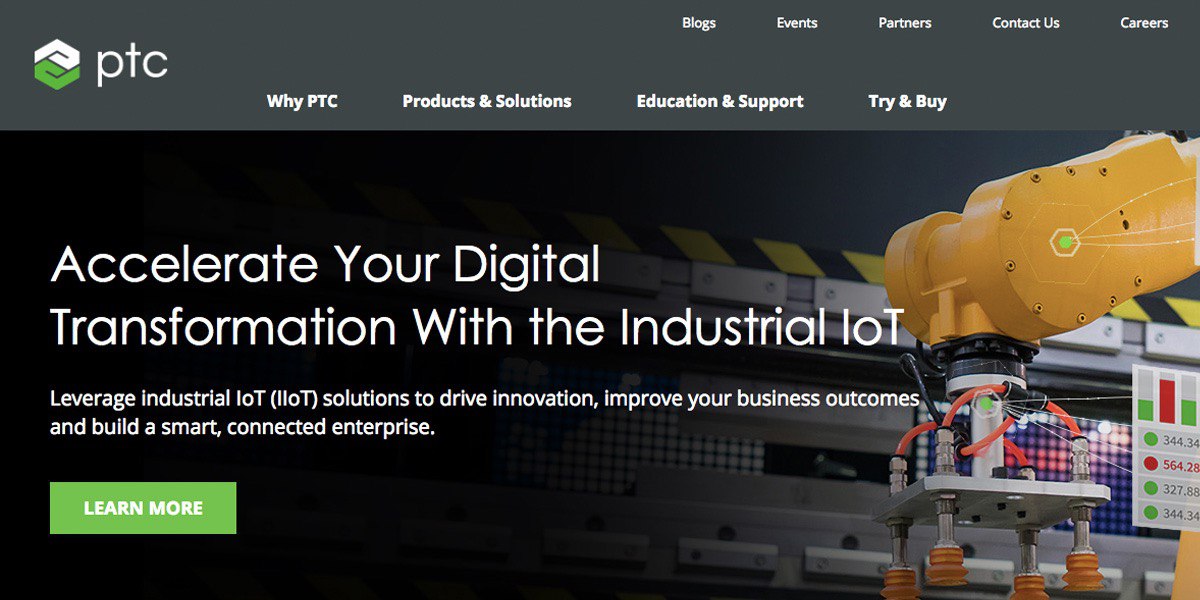 PTC's ThingWorx is designed to develop industrial IoT solutions. It is considered one of the most functional toolkits for building IoT apps of varying complexity and size.
The platform offers extensive opportunities for collaboration and sharing, which turns it into a best-fitting solution for large developers groups. Its capabilities are powerful enough to create various IoT applications without the need to use third-party components or libraries.
IoT apps built on the ThingWorx platform are not less technically capable than an advanced enterprise solution. Wide scalability and integration with advanced technologies, such as augmented reality and extensive analytics, make ThingWorx absolutely worth a shot. These powerful functionalities are possible thanks to a simple user interface combining first-class performance and usability in one place.
Key findings
Tips for choosing the right IoT service
This comparative analysis of IoT cloud platforms proves that there are many options to choose from. It may be very difficult to find the best solution for your specific project. Whatever platform you go for, one thing is clear: all platforms are included in this list for a very specific reason: they all have a wide range of advantages you can benefit from.
We compared the top 10 IoT cloud platforms to show you the opportunities they hold for your business. Since all of these Iot platforms have their own features, it is rather difficult to select the best-fitting solution. Hopefully, the criteria listed below will guide you toward making the right choice.
Criteria for selecting the best-fitting platform
● Price and pricing model. Some platforms use a pay-per-use model (pay for the services you actually use - ex. AWS IoT Core), while others use a monthly subscription model with a fixed price (ex. Salesforce). Depending on the peculiarities of your project, you may choose the pricing model that works best for you.
● Free trial. This is a great option for situations when you need to test something out. You get the opportunity to start a simple project with minimal investment. AWS has a free trial option with certain limitations, while Oracle does not offer any, as this tool is quite expensive in general.
● Team collaboration. Interviewing developers is the right way to properly select tools and services. Ask the development team about their experience and knowledge of the options available. This will help you make the right choice of the IoT platform, striking the right balance between requirements of your project and the team.
Sure thing, each project is unique. It may have special requirements for security, scalability, and storage. To find the perfect environment for building a connected network, we recommend you requesting some professional assistance.
Tell us about your IoT project, and our experts will offer the best technological solutions available on the market. With our advice, you will create software that meets all project requirements, getting where you want to be.